How to collect incentives & prizes
How to redeem your "virtual coupon"
 An eligible student completes the NSSE survey and submits it.
 On the next business day, NSSE will send York a list of students who have completed the survey (while safeguarding privacy).
York sends a "virtual coupon" to the student's YU-card and sends student a thank you note. Virtual coupons do not affect YU-card balances. Once the student has the thank you note he or she knows to claim their beverage or gift card.
Student goes to Starbucks (in the Centre for Film & Theatre ) or Tim Hortons (on Glendon campus), buys a beverage on their YU Card. The vendor swipes the YU-Card and removes the virtual coupon.  We recommend that the student tells their server/cashier that they're using the virtual coupon so the student isn't inadvertently charged.
OR the student can go to the Keele or Glendon Bookstore and claim a $5 York Lanes gift card or $5 Underground Campus Kitchen gift card (while supplies last). The Bookstore swipes the YU-Card, removes the virtual coupon and gives the student a gift card. The York Lanes card is usable anywhere in York Lanes and at the bookstores on the Keele and Glendon campuses; the Underground gift card is usable at the Underground Campus Kitchen only.
All virtual coupons expire on April 30 at 11:59 PM. On that day the free latte reward will end when the vendors close and no new York Lanes gift cards will be issued after the Bookstore closes.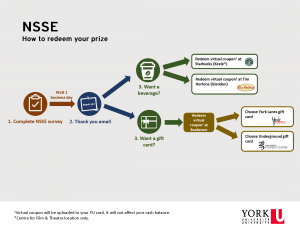 Click on the image to enlarge and print the diagram.
How the prize draw works
The contest ends at 11:59 PM on March 31 after which students will no longer be considered for prizes and their Faculties will not be credited for the Champion Cup.
York will draw names at random, beginning April 3, 2017, and notify the prize-winning students by email. Winners will have five days to respond to the email notice and claim their prize.
If a prize is unclaimed after the five-day period, York will award it to the next randomly drawn name.
Visit Contest Rules for details.